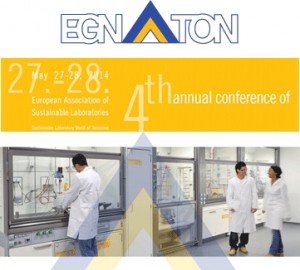 A summary of the conference from tcnipalast.it (http://www.tecniplast.it/en/news/the-4th-annual-conference-of-egnaton-.html)
The 4th Annual Conference of EGNATON (European Association for Sustainable Laboratories) will be organized in Milano from May 27th to may 29th http://www.egnaton.com/en/AnnualConference2014.aspx. It is an important and interesting meeting who promotes, develops and spreads world-wide sustainable technologies and processes when planning, building and operating of laboratories.
Laboratory animal science is currently in a transition phase towards more sustainable operations. Over the past Decade, "Green" issues have moved into the mainstream of governmental, social and organizational concerns. Green issues – essentially conservation of non-renewable resources, reduction of waste and avoiding pollution – are an increasing focus of laboratory animal facility design and operations. Research organizations consume significant amounts of energy, materials and generate considerable waste. The increasing influence of social responsibility and, in the EU, regulations are driving research organizations to reduce their energy consumption and the environmental impact of their operations. To minimize these impacts, it is necessary to introduce policies that reduce the use of energy and other resources while supporting efficient operations. Reducing the environmental impact of animal facility by sustainable operations is a new challenge and requires considering the "whole life cycle" environmental costs of a product or services. The justification for "greening", or sustainable laboratory operations, is related to the impact of research laboratories on many different environmental, human health & safety and social factors .The current challenge is to reduce the volume of waste and conserve resources by recycling or reusing non-hazardous waste products.
The 4th Annual Conference of Egnaton  with 2 days of presentations, will support national sustainable laboratory networks, create a vision, and implementation of  the sustainable European laboratory of the future, based on the needs of all stakeholders., i.e. users, owners, operators, designers and official bodies. The meeting will be a great opportunity to exchange of best practice and ideas between national sustainable laboratory associations or networks on features of sustainable laboratories and will try to develop greater international harmonization. The Conference will offer a great opportunity of training, recommendations for action in terms of planning, building, and operating of sustainable, future proof and efficient laboratories.